The Inductosense battery-free, wireless sensing technology can be applied across a range of industries where internal corrosion or erosion of pipework or vessels needs to be monitored.
The intrinsically safe TMS sensors can be applied to thickness measurement location (TMLs) on an asset providing accurate, repeatable and RFID tagged ultrasonic thickness measurements. The TMS sensors are installed onto a structure using an epoxy and fully coated to protect them from UV or humidity. They are activated wirelessly by bringing the WAND data collector close by. The data can be acquired quickly by anybody, without human error accurate alignment or coupling gels. Analysis of the data, trending and reporting can be undertaken using the IDM software.
The WAND data collector can also be mounted on an extendable probe (the REACH) to acquire measurements at height, reducing the need for scaffolding, rope access or ladders. The ECHO range of extension cables enables sensors to be installed under thicker layers of insulation or insulation with metallic outer layers.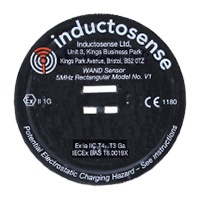 TMS Sensor
Thin, compact, battery-free ultrasonic sensor, with RFID for location assignment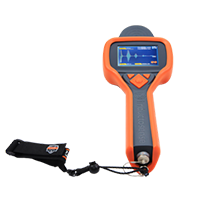 Wand Data Collector
Easy-to-use, handheld device, which wirelessly activates the TMS sensor, acquiring an instantaneous wall thickness measurement, with the simple press of a button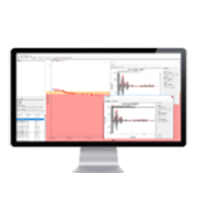 IDM Software
Enables remote data analysis from any assigned TMS sensor. Able to calculate corrosion/erosion rates, set thickness thresholds, analyse ultra-sonic signals, generate reports, as well as configure the WAND device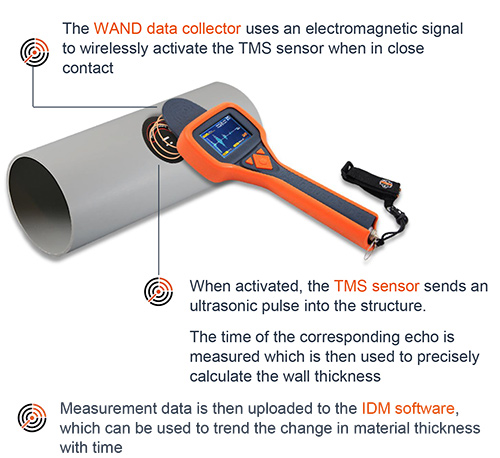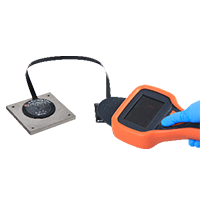 Echo
Robust, ultrathin TMS Sensor extension cable, which allows data acquisition underneath insulation and difficult access areas. The ECHO comes in customizable lengths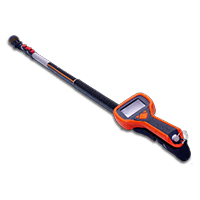 Reach
WAND extension pole, which allows wireless data acquisition for hard-to-reach measurement locations. The REACH length is readily adjustable up to 4 metres
Evaluation Procedure At Petronas Group Technical Solution (GTS)
Validated / Endorsed By Petronas